Inside the small startup ecosystem, we have a handful of topics that are constantly popping up. An effective pitch deck is probably in the top 5 of most talked about matters – as we all know, for a good reason.
There are tons of guidance online when it comes to creating your own deck and mostly every mentor has their own advice to give. However, pitch decks are still a tough topic to discuss. From my own experience as an investor and advisor, finding companies that can truly crystallise their value proposition and showcase their information well is even harder.
Now that you believe that you are ready to proceed with fundraising, it's time to build a killer pitch to make investors want to book a meeting with you ASAP. But the question remains: what do investors want to see in your pitch? How can you hook them to get invited for a meeting?
After advising hundreds of founders, I'm well aware deckbuilding is a skill that you learn by doing. The dog-eat-dog world of investments is not easy and you know it, so a few hard truths won't hurt. Shall we?
Nobody is going to read your pitch deck from beginning to end
DocSend is a cloud-based document sharing startup where you can track who reads what, when, and for how long in a presentation. Many founders I advise using the platform in order to track the acceptance of their pitches. Data (almost) never lies. DocSend released a report showing that, on average, most investors will spend a total of 3 minutes and 44 seconds checking a pitch deck.
Yup, this shiny little pitch deck you've been obsessing about for weeks on end will most likely never be read from beginning to end.
Feeling pressured? Don't worry. It gets worse.
Decks must be concise and clear enough for investors to decide in less than 4 minutes if they would like to proceed or not. The longer they spend looking at a deck, in fact, makes them less likely to invest.
What are VC investors really interested in?
I like to say that a pitch is bait. It must make investors keen to know more so they ask for a meeting: that's all. So include enough information for them to understand your business but leave them intrigued enough to want a face to face. 
The reaction you want to generate in investors is something like "Is this really possible? How do they do it? Is the tech really that good?". If that happens, you just got your meeting. Job done.
In 2019, we tutored a Danish startup that had sent its co-founder & CTO to us for a pitch workshop. Honestly, the guy pitched in such a low-energy fashion that my expectations weren't high, especially after checking the company's storyline. He spent his entire time talking about features and functionalities in a mix of humbleness and geekiness.
It was boring.
When the Financials slide came up, during the feedback session, however, it truly saved the day. In a hidden corner, you could see the data investors were dying for: they were the #1 company in its industry in Denmark and had twice as much revenue as its nearest competitor. And he failed to even show the slide during the pitch!
His excuse to hide it? "We don't like to brag".
Trust the Danes, humble to their own detriment.
Long story short, anybody would miss the company's potential and super-growth without the hard facts.
Crystal-Clear Financials
Despite the BS you read on well-meaning websites, investors aren't looking for a vision, mission, character, or founder's love story. They're looking for concrete data and numbers. VCs need significant returns on their invested capital, so they will look at your financials first.
That's right, at the end of the day, VCs are looking for money. Surprise, shock, horror! Who would guess?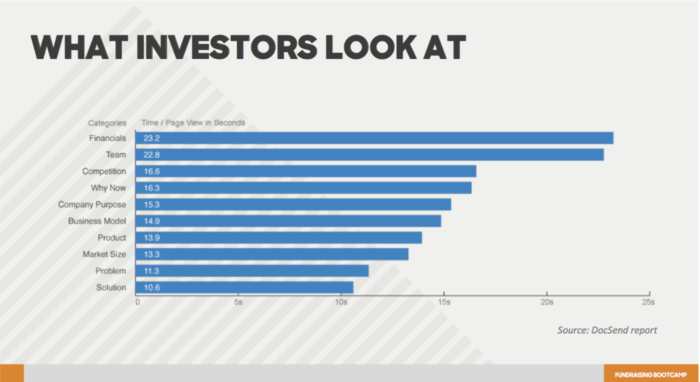 Honestly, even though it sounds obvious, it isn't. As you can see, the financial slide is the most important information in a deck from the Venture Capital standpoint, followed directly by the team slide. However, only 58% of successful pitch decks actually include this slide, because lots of seed-stage and even A pitch decks do not have enough KPIs to show.
Do you know what that means? Opportunity.
Nail your financials in a simple, crystallised slide. Put your crappy Excel sheet to the side (really, nobody wants to read that) and go for what we call at Fundraising Bootcamp a simple financial storyline: that's how you explain your financial model on one single page.
Here's an example: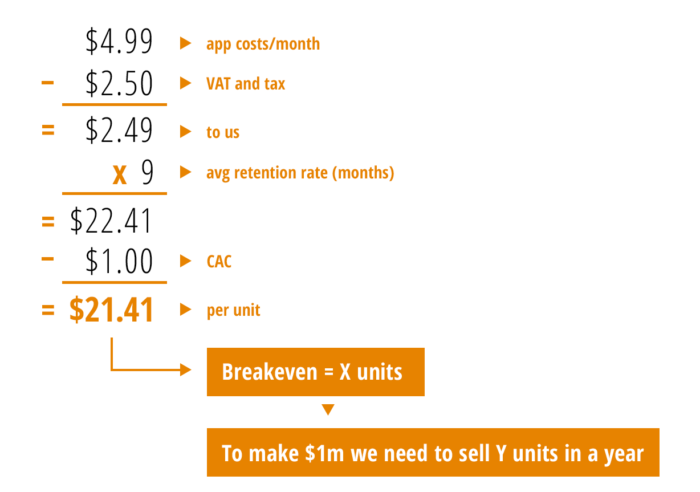 That's precisely how investors will know their potential return and take the leap to work with you. It's so incredibly simple you can explain it to your neighbour. In fact, try explaining it to your neighbours, to your grandma, to your dad, and find a way to make it even clearer in case they don't understand.
VCs are looking for a lot of bang for each investor buck so that they can pay what they raised back. Learn how they think – and how to prioritise them.
Great Team Slide
Investors want to know what makes your team special. When I mean special, I mean unique. Quirky. Interesting. Capable. Drop the mugshots and glorified titles and focus on the relevant achievements and big-name firms in the space. What makes this team distinctive, and most importantly, why should anyone invest money in them?
Truth be told, nobody likes a bland team. Focus on the great and weird aspects of your teammates. Explain why they're awesome. Show different. Awards? CoD winning streaks? Chess weekends? If your team is kind of bland, well, that happens too. Find your USP and play the hand you're dealt.
Together with the credentials that will ensure your team is more than capable to execute what you're promising, show that they're cool human beings. I hope it's not that hard.
Pitch Smart
A while back a company came to our Fundraising Bootcamp asking for help with finance. After a highly hipsterised e-commerce presentation selling men's grooming products, with beautiful design and cool products, the pitch was over. There was simply no information about their business or financial model on their pitch deck. Zero. Nada.
During the feedback session, however, the founder showed that the business had grown organically to 8 million euros in revenue, top percentile margins. I was mesmerized. Turns out the company didn't need any cash but was instead considering acquisitions in Europe's largest markets and they just failed to mention it.
Once again, hard data doesn't lie.
On top of having a great idea, be concise, be interesting, keep your financials clear, and your team interesting. Make sure you're explaining that you are a billion-dollar business. It's easier than you think.
In case you need guidance, join our next Fundraising Bootcamp cohort.